Puerto Vallarta, Mexico, is home to world-class tuna, sailfish, and grouper fishing. Whether you are fishing the Bay of Banderas or heading to the Islas Marias in search of big game, P.V. holds excitement for anglers of any skill level.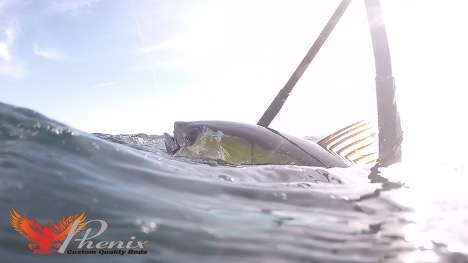 Big game fishing for super-cow yellowfin tuna
The Islas Marias is known throughout the fishing world as one of the most accessible locations to catch trophy yellowfin tuna, but why do they hold these large gamefish? Our pros and captains say it is because of the easy access to the large tuna's prey. The deepwater drop-offs that are so close to these islands make a highway these fish follow to their feeding zones and back to deeper cooler waters.
Kite fishing
We have all grown fond of kite fishing, but how do you successfully battle these giant tunas? It all starts with the rod. Having the right action is key to landing your new personal best. Battles with these fish can last 45min+ so having a rod with a strong backbone and the right tip action will keep the pressure on the fish while absorbing the violent headshakes these tuna are known for. The preferred rod models are the Black Diamond Hybrid PHD700X4H, Axis HAX760X3H, or HAX760X4H, but why a 7'6" rail rod? The extra length is critical even from the start of the fight. Keeping your line clear of the water makes taking up slack a breeze. Once you have your fish circling, the rod length allows for more clearance from the props and chafing against the hull.
The Axis and Black Diamond Hybrid series make easy work of these fish, your friends won't be able to keep up.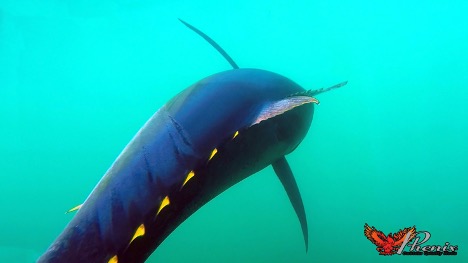 Fly line
The same rules apply, with the longer axis rail rods being a big advantage.
The key to more boated fish is to take your time with your rigging, make every bite count, and soak your bait as much as possible. A big secret to getting quality bites from the biggest grade tuna is fishing large baits at dusk and dawn… Thank us later.
Jig fishing
Whether it's a PL-68 or Flatfall, jig fishing is a grind, and having the correct rod will make this work easier. The shaped Hypalon of the Axis series grips the rail even in wet conditions and gives you a solid platform allowing you to jig and wind comfortably.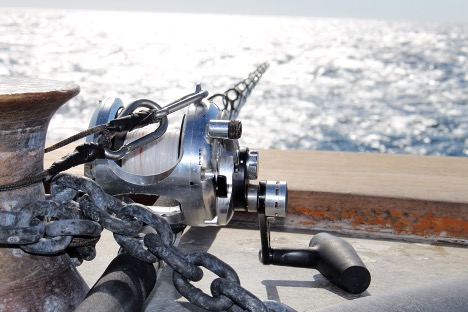 When all else fails… The sinker rig
After a long day of battling tuna, it can help to put your rod down and take a break. The sinker rig is a perfect technique for this as it allows you to hook your reel into the trolling clip and wait for a bite. Ask the crew what depth the fish have been metering at and position your bait in that zone. Remember the boat will be drifting and it is easy to be too high in the water column… Deeper is better.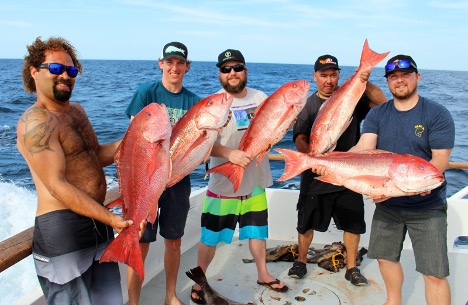 Deep dropping for exotic grouper and the aggressive huachinango –
You never know what you could catch your next drop in P.V.
The sheer amount of deepwater species is astonishing and makes for great fun.
There are two ways to get a bite from these fish; jigging and dropper-looping.
Chrome seems to be the best color for jigs and even finessed a bite from a near-record sawtail grouper on a Phenix Rods P.V. charter.
As for dropper-loop baits, strip or whole squid with the occasional live scad seem to work best.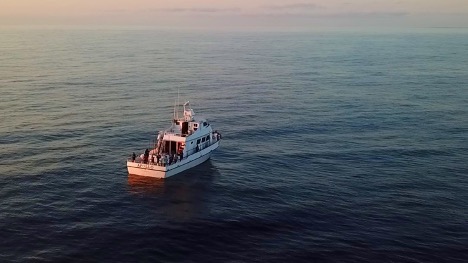 Must-visit locations while in Puerto Vallarta:
Marietas Islands – Here you will find the world-famous hidden beach only accessible by boat.

Malecón Boardwalk – Walking along the Boardwalk is a must. Take in the ocean scene and visit the multitude of shops, bars, cafes, and restaurants in this area.

San Blas – This mangrove makes for a great day trip and is home to inshore fish like snook, jacks, roosterfish, and crocodiles.
Tips from our Pros:
-Fly with an airline like Southwest that has discounts or free checked bags to bring home your catch. The best coolers are the 30 can size which easily fit the maximum 50lbs of fillets for you to bring home.
-Buy your Mexican fishing licence online to save commissions and fees.
-Stay hydrated, stock up on Gatorade and sports drinks before heading out fishing in the tropical P.V. weather.
The fishing in Puerto Vallarta is truly world-class. What are you waiting for, book your charter and tag @phenixrods on social media
Ready to catch the fish of a lifetime? Shop Phenix Rods Now